Home
Holiday rentals: 29 villas and apartments in and around Carvoeiro.

Book now and get the property you prefer! Deal directly with the owners or through reputable villa management companies - you can search here. Please also check the last minute deals !
---
Carvoeiro newsletter August 2017 available
CARVOEIRO BEACH PARTY
Nothing says summer quite like a beach party, however these are usually only happening over in Praia da Rocha or down in Vilamoura and nobody wants to drive that far… So it is great news to hear that we are going to have our very own beach party right here in Carvoeiro and the best part of it all is that it is a free event!
The party will be taking place on August 26th from 8pm until 3am for those who are still able to keep on dancing into the night.
The headlining act for the evening is Kataleya ( I had to use Google to have a clue on this one) who I am reliably told by the internet is a kizomba pop singer from Brazil.  If kizomba is not your thing then don't worry because there are also plenty of DJs who will be spinning the decks for the crowd including local favourite DJ Alexandre Ramos and the big name Portuguese DJ Christian F.
To be honest the beach party is about far more than just the music, I am pretty sure the atmosphere will be brilliant for the night and it will be a brilliant evening for all ages so come down and join the party on the beach in Carvoeiro!
IN CARVOEIRO THIS MONTH
As well as the beach party at the end of the month we also have the annual Blessing of the Sea celebrations.
This happens on the last Sunday in August every year and will see a religious procession through the streets starting at the church and then winding down and then back up again.  
The procession includes members of the church, the scouts and a marching band and is a very beautiful sight for anyone who has not seen it before.  It happens during the late afternoon and then gives everyone time to head off for something to eat before then going back down to the beach to watch the fireworks display at midnight.  The details of the blessing of the sea have not yet been confirmed but there will be posters up around the town and outside the Junta office for those who are looking for more details nearer the time.
This really is a very moving procession and is accompanied by a full brass marching band as well as many members of the church who follow the statue which is adorned in flowers as it moves through the streets – one not to be missed for those who like to experience some of the traditions and culture of Portugal while here in Carvoeiro.
SO MUCH TO DO…SO LITTLE TIME
Here are some of the top things to do locally during August but if you want a more comprehensive list of all that is going on in the Algarve during the month then have a look at the official guide for the month which you can read in full here (http://visitalgarve.pt/pressroom.file.php?lang=uk&fileID=240&file=guia_agosto_17_web[1].pdf ) or pick up from tourist information points about the place.
Fatacil – Fatacil is back again for the 38th time filled with its strange mixture of agricultural equipment, horse shows, livestock, handicrafts and live music acts.  They have made a lot of changes to the fatacil showground in Lagoa so it will be interesting to see how it looks this time.  The Fatacil is on from August 18 until 27th from 6pm until 1am.  Tickets cost €3.50 for a single pass or a family ticket is €12.50, under 12s get in for free.
Silves Medieval Festival – Brave the heat of Silves and step back in time at the annual Medieval festival – a firm favourite round our way!  The festival will be taking place from 11th August until 20th August around the cobbled streets of the city and up to the castle.  The event starts at 6pm each day and goes on until midnight and costs €3 for a 10 day pass if you buy it up until the 10th August or €4 for a 10 day pass if you buy it from the 11th onwards.  So don't worry if you don't see everything in one evening – you can always go back again to see more!
New pages: Self guided walks 02/03/2017
Please see the new weather station in Carvoeiro. 
Carvoeiro makes a start on open-air auditorium, read more at the Portugal Resident [opens new window]
NEW LOWER PRICES ON ADVERTISING: Rentals & Real-Estate just 29 euro per year - business advert starting at just 99 euro per year - read more here
---
CAR RENTAL New lower prices!!   Starting at just 35 euro per week in the low season  - no credit card needed at reservation - no "full tank charge" or other gimmicks - the price you see is the price you pay! from a local company at your service since 2003 - get a rental car delivered at your accommodation at no extra charge (6+ day rental) at low on-line prices.
BONUS: One free week (group B low season) for every 10 weeks booked and paid! 
Important: No credit card needed at reservation - no prepayment: why run a risk in Portugals difficult business climate!
We will match any price* & conditions with the added benefit of a cash discount and bonus days - just email price, a link and time/dates 
Please see www.algarvedriver.com and book without deposit, cancellation or amendment charges.
*(except July & August) 
Read about the new motorway toll on the A22
---
Find Hotels from just 25€ per night
NEW ARTICLE in the Financial section: New law on tourism rentals 
Latest property for sale: LOTE4 COLINA VERDE See it here 

---
Popular: Postcards from the sixties, find them here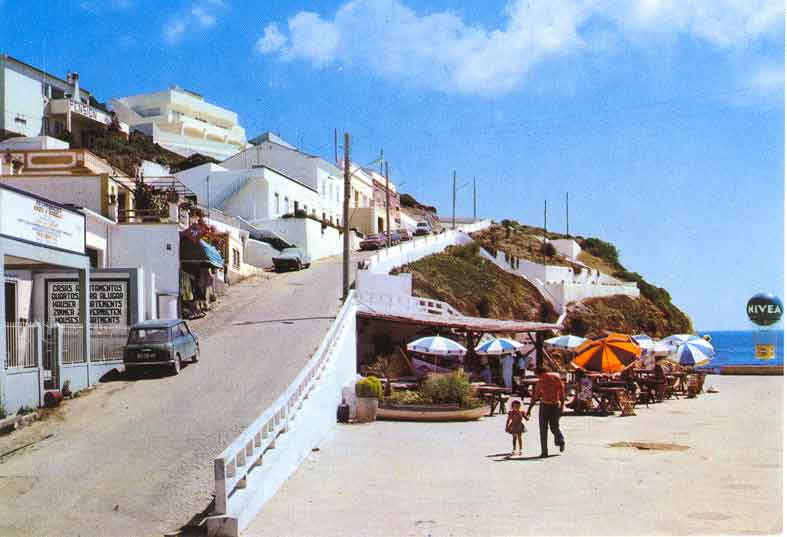 ---
The Internet never ceases to amaze me; today I have received an email from Mr. Tim Motion, the creator of the Sobe e Desce in 1967 (now the Jailhouse) in Carvoeiro, in response to the article "Memories of Rosita - Carvoeiro in the sixties" by Lois Rowe (August 1998). Please read both I am sure you'll enjoy them :-)
---

Column - The Property Doctor: "Fossas & Furos!" please read it here  
Foreign pension income & A welcome change in IMI tax rate in the Financial section

---
Latest pages in the "Where to go" section