Events Vozes Intensas
Carvoeiro Easter food and fun
Eat, drink and be merry in Carvoeiro this Easter with two initiatives aimed at celebrating the food of the Algarve and the Easter period.
Local business association Vozes Intensas, in conjunction with the Junta Freguesia of Carvoeiro, have organised the first gastronomy festival of Carvoeiro which will run from March 31 until April 8 2012 and will also coincide with an Easter fair being held in the centre of the town from April 5 until April 8 2012
The gastronomy festival will see 13 local restuarants offering a typical Algarvian dish at a special price every day for the duration of the festival.
Restaurants Tia Ilda, Onze, A Vela, Jota Lita, Tasco, Marisqueira, O Stop, A Fonte, A Gale, 3 Jotas, Taste, Ele &Ela and Pimenta Preta will all be serving up tasty treats with prices averaging around €15 for the meal.
Claudia Boto from Vozes Intensas said: "This is a great chance for people to try out some very special dishes in restaurants they may never have visited before.  We hope that the festival will prove popular with both the local residents and visitors to the town over the Easter period."
A map of the route, including details of each dish in each restaurant, will be available shortly and distributed within Carvoeiro and to local hotels.
Meanwhile, the Easter fair which proved so popular last year will be returning to Carvoeiro complete with Easter bunnies, music, entertainment and stalls selling various cakes, local produce and food.
The Easter fair will open each day from midday until around 6pm and will be located in the centre of Carvoeiro in the area in front of the Soares shop.
For further information about the fair and the festival please email vozesintensas@gmail.com
---
Algarve night!
Everyone is invited!! Saturday the 23rd July 2011 at 9:30pm in Carvoeiro, don't miss it!
There will be a parade though the streets of Carvoeiro with two of the greatest folk parade of the Algarve.
They come from Mexolhoeira Grande and Pedra Mourinha. The parade will go down the street of Rua do Farol (Restaurants street), Rua dos Pescadores (the in street) and also through Rua do Barranco (the exit street).
To all business owners who want to join the party please decorate your business premises on the theme "Algarve night"
This event is organized by the Association Vozesintensas "Business owners and residents of Carvoeiro" with the support of the associated "restaurant JOTA LITA" and the Municipalities of Carvoeiro and Lagoa.
Hope to see you all in this night!!
Noite Algarvia
Sábado dia 23 de Julho 2011 às 21h30 não percam!!!
Vão desfilar pelas Ruas da Praia do Carvoeiro duas GRANDES MARCHAS!
São elas a Marcha de MEXOLHOEIRA GRANDE e a Marcha PEDRA MOURINHA!
Uma entrará pela Estrada do Farol e a outra pela Rua dos Pescadores, passando também pela Rua do Barranco.
Sugerimos aos comerciantes da Vila, principalmente destas duas artérias que decorem os vossos estabelecimentos alusivo ao tema "Noite Algarvia".
Este evento é organizado pela incansável Associação VozesIntensas e têm o apoio do restaurante JOTA LITA e os Municípios de Carvoeiro e Lagoa.
Esperamos vê-los a todos por cá nesta noite !!!!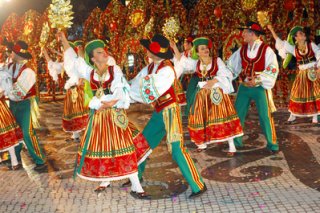 ---
"WELCOME SUMMER BEACH PARTY" Saturday the 25th June 2011
The Welcome Summer beach party, will have 2 well known DJs, several local bars preparing fantastic cocktails and some snacks;
"DJ Puetes" will open the night at 8pm with music for those who are having dinner in the local restaurants, then at 10pm the party starts in the beach and the 2nd "DJ China" will continue the party until the end at 3am  
Don't miss the 1st "summer beach Party" ever held in Carvoeiro!
---
Praia do Carvoeiro and VozesIntensas - Association of Business owners and Residents of Carvoeiro, invites everyone to participate in the Easter Fair.
The Fair will be held 22-25 April, from 12pm to 8pm.
There will be several tents with local artisans, several tents of Chocolate, Popcorn, Cotton Candy and various entertainments, not forgetting of course the children!
"EASTER EGGS". MUSIC ARTISTS every day. Come on, everyone ...
Association VozesIntensas and Praia do Carvoeiro thanks all for their help and support.
---
"VozesIntensas – Associação de Comerciantes e Residentes de Carvoeiro, vem convidar todos para participarem na 1ª Feira da PÁSCOA a ser realizada no nosso Carvoeiro.
A Feira será realizada de 22 a 25 de Abril das 12h00 ás 20h00 Horas.
Haverá várias tendas com Artesãos locais, fazendo os seus trabalhos manuais que serão vendidos directamente, musica para animar a festa, tenda de Chocolate, Pipocas, Algodão Doce e vários entretimentos, não esquecendo claro, as Crianças!!
"OVOS... de PÁSCOA". MÚSICA, ARTISTAS todos os dias. Venham, todos...