Home
Holiday rentals: 32 villas and apartments in and around Carvoeiro.

Book now and get the property you prefer! Deal directly with the owners or through reputable villa management companies - you can search here. Please also check the last minute deals !
---

A22 tolls to be cut by 50% read more at the ThePortugalNews.com
Algarve voted Best Beach Destination in the world read more at the ThePortugalNews.com
Please find the latest COVID19 travel information here
CARVOEIRO RADIO - find it here!
Find all the Carvoeiro newsletters here
New article: 7 Luxurious Reasons To Visit Carvoeiro For Less in the Winter  
---
Register as a user for the forum with the code_word: Sun2020
Please see the new weather station in Carvoeiro. 
There are more than 100 events taking place every month in the Algarve, if you would like more information about what is going then have a look at the Algarve Tourist Boards handy guide, which is in both English and Portuguese!  
NEW LOWER PRICES ON ADVERTISING: Rentals & Real-Estate just 29 euro per year - business advert starting at just 99 euro per year - read more here
---
Car rental:
Easter Algarve promotion: : -15% on booking periods between April 1st and April 30th 2021.
Sunny Algarve promotion: : -15% on booking periods between May 1st and June 30th 2021.
This offer is valid until June 30th
Early Bird 2021: -10% on booking periods between July 1st and August 31st 2021.
This offer is only valid until May 31st
Discounts are deducted automatically.
no credit card needed at reservation
no "full tank charge" or other gimmicks - the price you see is the price you pay!  
delivery and collect directly at your accommodation possible. 
no Airport fees.
local company at your service since 2003.
Covid-19 concerns? We are open and offer (as usual) FREE cancellation and amendments. We are reinforcing our rigorous cleaning process using disinfectant in areas such as door handles, steering wheel, dashboard, console, seats, etc. before delivery.
We are the first and currently in JUNE 2020 the only car rental company in Portugal who have invested in ozone generators. An ozone generator is installed in the parked car and after approx. 5 minutes the car is completely disinfected for bacteria, viruses and fungal spores. Ozone kills all viruses and bacteria and also has the advantage of entering all the cracks and corners of the car. BONUS: One free week (group B low season) for every 10 weeks booked and paid! 
No credit card needed at reservation - no prepayment: why run a risk in Portugals difficult business climate!
We will match any price* & conditions with the added benefit of a cash discount and bonus days - just email price, a link and time/dates .
Please see www.algarvedriver.com and book without deposit, cancellation or amendment charges.
*(except July & August) 


Read about the new motorway toll on the A22
---
Find Hotels from just 25€ per night  - new updated page August 2019
---
Popular: Postcards from the sixties, find them here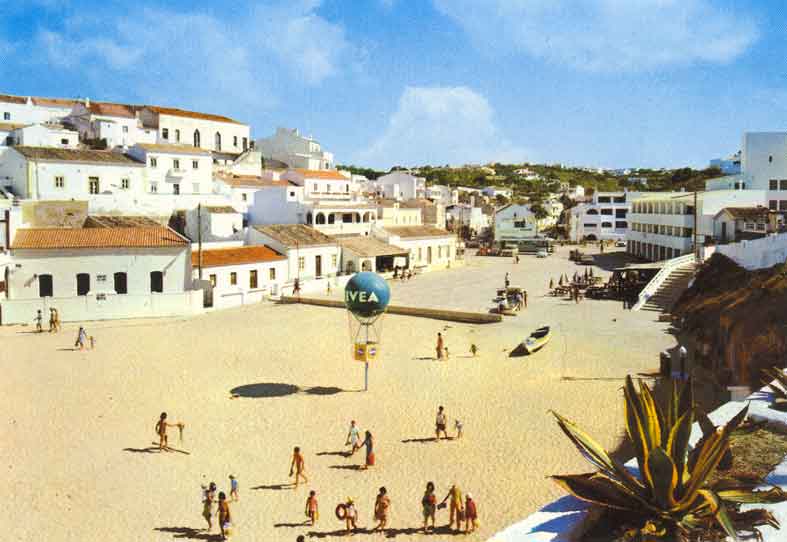 ---
New pages: Self guided walks 
---
The Internet never ceases to amaze me; today I have received an email from Mr. Tim Motion, the creator of the Sobe e Desce in 1967 (now the Jailhouse) in Carvoeiro, in response to the article "Memories of Rosita - Carvoeiro in the sixties" by Lois Rowe (August 1998). Please read both I am sure you'll enjoy them :-)
---
Column - The Property Doctor: "Fossas & Furos!" please read it here  
Foreign pension income & A welcome change in IMI tax rate in the Financial section
---
Latest pages in the "Where to go" section