Fatacil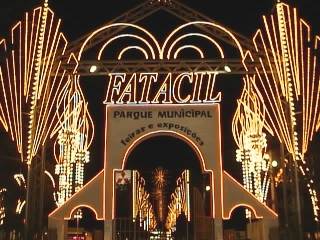 Every year, for ten days in August, Lagoa welcomes the Fatacil fair.
Essentially a country fair, the event has grown over the years since first beginning in 1982 and is now one of the largest events in the region, with thousands of visitors flocking to the Fatacil ground.
This is an event that attracts many Portuguese visitors from outside the Algarve as well as locals and foreign tourists looking to soak up the atmosphere.
The site of the Fatacil is easy to find, located on the Carvoeiro side of the EN125 with official parking available in the waste land (where the circus pitches up). Parking is probably the biggest pitfall with the fair as the official parking areas, which is paid for, often fills up quickly leaving people having to trawl around the streets of Lagoa looking for a space.
To avoid parking problems then arrive before 7pm, you will also avoid having to queue too long for tickets if you get there earlier.
An entry fee is payable at the gate (usually around €5) but you can get in for free if you a blood donor in Portugal.
So what can you expect from the Fatacil once you have managed to get in?
This is a country fair so we have the obligatory heavy farm machinery on display around the back while there are also examples of livestock including a few sheep, cows, pigs and horses.
A special area is set up each year with seating and a show ring for horse shows that take place every night. This area is located next to the livestock.
If animals are not really your thing and you would rather sample some local tipples then the Fatacil now hosts a wine fair. This is a relatively new addition to the fair and celebrates the fact that local Algarve wines are now being recognised for their quality.
In the wine area you can sample different wines and buy up some discount boxes while seeing who the winners of the main awards have been.
Many other types of liqueurs are available to buy from the fair and this is a great place to pick up some Medronho or other local liqueurs (great presents for christmas and birthdays).
On the food front there are plenty of choices from local cakes and sweets, to that octopus that you can smell burning, I mean cooking, from half a mile away. There are all the usual carnival type foods with bifanas, pão com chouriço and faturas but a personal favourite has to be the enormous smelly cheese and presunto sandwiches that are made to order and are truly amazing.
The main fair has hundreds of stalls selling everything from hot tubs to homemade bead bracelets. Traditional arts and crafts are represented well with stalls selling lace, wooden objects and homemade tools dotted around but be careful not to go expecting a great bargain as many of the items are expensive due to them being hand crafted.
Leather jackets, riding crops, air conditioning systems, cleaning products, personalised pottery, books and toys there is something for everyone and when you ave finished shopping until you drop then it is time to head off to the music area to watch one of the daily concerts.
In the past the Fatacil has welcomed some of the biggest names in Portugal but recently the acts haven't been quite as impressive, however there is usually one night that will appeal as the organisers tend to pick acts of different genres.
Fatacil, although not as busy as it may have been in the past, is still hugely popular and can get very crowded especially when one of the bigger acts are playing later that night so go early if you want to be able to get around easily.
Fatacil update 2013
The Fatacil will run from August 16 until August 25, tickets cost €5 per person and a family ticket for 4 people costs €15.