Praia do Molho Beach
8.000 meters from Carvoeiro by road going west
see on map
Parking: There is a large new car park at the top before the steps down to the beach. There are enough spaces for most of the year but during the summer some people park on the entrance road to the beach.
Access: Follow the signs on the road from Sesmarias to Ferragudo and turn left at the sign post for the Casabella hotel. Carry on to find the beach entrance.
To get to the beach you have to climb down many steps which are steep and unsuitable for small children or for those with mobility problems.
Water Quality: N/A
Lifeguard: No
Beach Bar: Yes. The Praia do Molho restaurant is open in the summer months
Picnic Area: No
Details: This really is a beach of two halves. Once you have walked down all the steps you have the beach which is split by a jetty.
To the right you have the area with the restaurant and a small beach with calm waters while to the right you have another small beach with rougher seas due to the jetty.
The calm waters are great for children or swimmers who are less confident while the other side is prefered by body boarders who take advantage of the bigger waves.
If you don't want to sit on the beach then you can take a walk along the jetty which can be dangerous in the winter if the sea is rough but is safe in the summer if you stick to the main path.
This beach is a great alternative to its neighbours and is usually quiet and only used by those who know it exists!
If you do not want to go down to the beach this area is worth visiting for the views alone. There is a view point on the edge of the car park and from here you can see down to Praia Grande, along the Rio Arade and across to Praia da Rocha. Take you camera on a clear day for some great shots.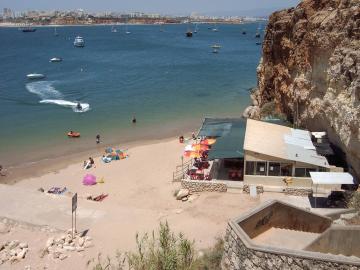 photo courtesy of Peter Belinfante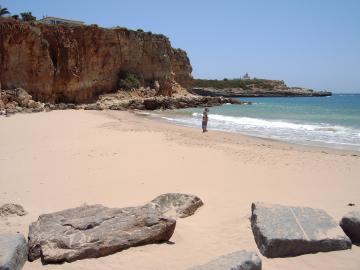 photo courtesy of Peter Belinfante