Carvalho Beach
Carvalho beach - a strange beach
4.000 meters from Carvoeiro by road going east.
see on map lat: 37° 5'12.24"N long: 8°25'55.06"O
Please find more photos at www.gallery.carvoeiro.com
Parking: Available but not very close. The best chance for parking is within Club Atlantico but in the summer months this fills up quickly. Be prepared for a walk.
Access: Via some very tricky steps! This is not suitable for anyone who is not sure-footed and care needs to be taken to get down to the beach itself.
Water quality: Excellent
Lifeguard: Yes (01/06 – 30/09)
Beach Bar: No bar here or toilets, you need to walk back up to Club Atlantico for any services here.
Picnic Area: No
Details: A smugglers cove of old so the stories go and you can see why - if you are able to find it that is!
This is not the easiest beach to find but is best accessed from the car park at the end of Club Atlantico down the steps and the look down to your left for the beach sign.
Once you have gone down the first set of steps then you go through a steep tunnel that takes you down to the beach itself.
This is a stunning, sheltered beach with a beautiful view of a stack in the sea and despite being tricky to find it is surprisingly popular.
You need to take your own provisions for this own though as there is no beach café or bar or toilets – forwarned is forearmed!
There are some great features to this beach, the entrance in is amazing and there is also a small room carved into an area to the left of the steps. On the other side of the beach steps have been made to lead around the headland – these are incredibly dangerous but are still used by local fishermen on occasion.
There is no health and safety as such around here, apart from the sign at the entrance that reminds you that rock falls are common, so use your common sense when at the beach to avoid injury.
Because the entrance to the beach is so tricky this is really not suitable for young children and you have to very careful if there is sand on the steps.
Take your camera to this one though, especially in the winter when it is usually deserted, for a real desert island moment.
...first you have to find it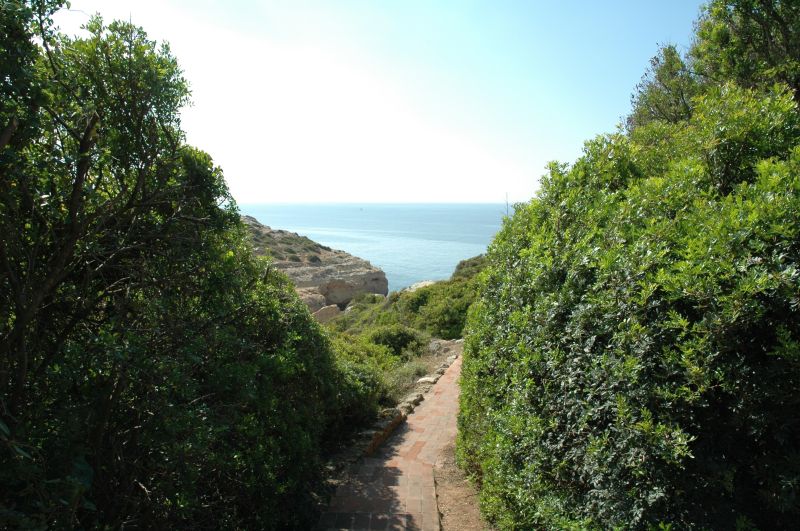 Then you have find the access,
is it here ...
or is it there?
Many strange ways leads to this beach!
But once there,
you will be happy not to have missed it !
although it can be quite deserted out of season
And when it is time to leave, you just have to remember...
was it here
or was it there ?