Caneiros Beach
Caneiros beach - 6.400 meters from Carvoeiro by road going west
see on map lat: 37° 6'18.26"N long: 8°30'49.35"O
GPS: LATITUDE: 37.10486 , LONGITUDE: -8.514
Parking: Sufficient for the winter but not nearly enough for the summer. Cars often end up parking along the entrance road to the beach and on the main road. You may find people offering to help you park your car here – they are not official and you do not have to pay to park here.
Access: There are steps down to the beach but there are not too many and there are hand rails.
Water Quality: Excellent
Lifeguard: Yes (01/06 – 30/09)
Beach Bar: Yes. Rei das Praias is a little more than just your average beach bar though! You can buy snacks and ice creams from the outside section of the restaurant while inside it has been transformed into an upmarket beach restaurant with an extensive wine list, fresh fish and specialities. A little more pricey than the average beach bar but the sunset views are amazing and you can still have a cheaper meal option if you opt for the chicken piri-piri or sardines.
Picnic Area: No
Details: An extremely popular beach both during the day and at night!
During the day this large and wide beach has enough space for all the hundreds of visitors with beach concessions available and toilet facilities.
As with almost all the beaches in the area you have to be careful not to sunbathe under the rocks because rock falls are common.
The beach is split into two parts at high tide but at low tide you can nip around the corner in the direction of Portimão and there is another large beach area. This area tolerates naturism so warn any curious children before they run around! At this end there is also a cave area which will appeal to anyone wanting to explore.
During the summer there are regular beach parties held here organised by the Rei das Praias restaurant. These parties include a working bar under the rafters of the restaurant and usually live Djs.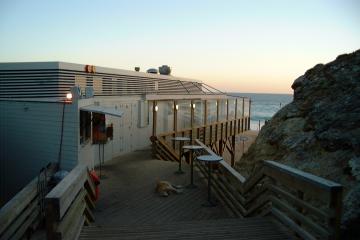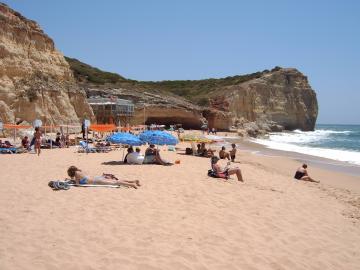 photo courtesy of Peter Belinfante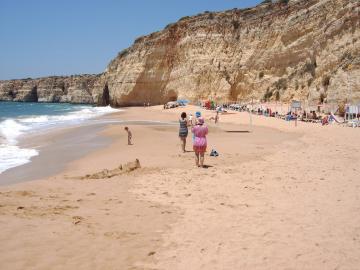 photo courtesy of Peter Belinfante