Carvoeiro for the disabled
Redevelopment work in Carvoeiro over the past few years has seen Carvoeiro become far more suitable for disabled visitors or for people with limited mobility.
It has to be remembered that although much has been done to make the town more accessible, it is not ideal for wheelchair users- mainly due to the gradient of the hills surrounding the bay, however with some careful planning Carvoeiro can be enjoyed by everyone.
Pavements and walkways
The centre of Carvoeiro is flat with many bars, shops, restaurants and cafes along both Rua dos Pescadores (the in road) ad Rua do Barranco (the out road).
On Rua do Barranco the traditional calçada cobbles have been replaced with smooth paving slabs on one side for part of the way. This pavement is suitable for wheelchair use, pushchairs and is even for those with mobility difficulties.
The second part of Ria do Barranco also has a covered walkway without cobbles.
Rua dos Pescadores has very narrow pavements so it is best to stick to the other side to travel up and down to the beach.
For a gentle yet stunning walk, the newly developed Estrada do Algar Seco is ideal. There is parking at both ends of this road and the paving has been replaced to make this cliff top walk accessible to everyone.
Beach accessibility
Carvoeiro beach is wheelchair accessible with a ramp on the right hand side of the beach leading down to decking in the summer months.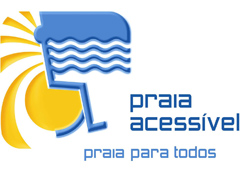 This is the only local beach without steps and is also suitable for families with pushchairs and for those with limited mobility thanks to the ramp.
For other beaches with disabled access you can travel along the coast to find the best ones.
Listed below are all the accessible beaches in the Algarve currently, those with a * also have amphibious chairs for water access, the nearest being at Senhora da Rocha.
If you would like to make use of the amphibious chairs then contact the local lifeguard when arriving at the beach and arrangements will be made from there.
Aljezur
Vila do Bispo
Salema

*

Lagos
Meia Praia

*

Luz*
Porto de Mós

*

Batata
Portimão
Vau

*

Rocha
Alvor-Nascente (Três Irmãos)
Alvor-Poente

*
Lagoa
Carvoeiro
Senhora da Rocha

*
Silves
Barcos/Armação de Pêra-Nascente
Albufeira
Rocha Baixinha-Nascente

*

Rocha Baixinha-Poente
Barranco das Belharucas
Salgados

*

Manuel Lourenço
Maria Luísa

*

Galé-Leste
Galé-Oeste
Olhos d' Água
Oura
Peneco
Pescadores
Loulé
Vilamoura

*

Quarteira

*

Vale de Lobo

*

Garrão-Poente
Loulé Velho
Faro
Faro-Mar

*

Olhão
Fuzeta-Ria
Tavira
Castro Marim
Praia Verde
Alagoa/Altura

*

Cabeço (Retur)

*
Vila Real Santo António
Manta Rota

*

Lota*
Monte Gordo

*

Santo António

*
Disabled parking
In Carvoeiro there are several parking spaces dedicated for disabled badge holders.
These spaces can be found:
2 spaces in front of the pharmacy on Rua dos Pescadores
1 space at the taxi rank at the bottom of the O Farol hill
1 space near the Junta office on Rua do Barranco
Carvoeiro centre does not have much parking so the number of spaces is quite good although clearly not sufficient during the height of the summer when there is not enough parking for anyone.
If a car is parked in one of the spaces that does not have a badge on display then the local police will be happy to deal with this and should be alerted.
Pharmacy access
As well as two disabled spaces there are also two spaces reserved for users of the pharmacy. During peak times these spaces can be occupied. Although it is not officially permitted the police will be lenient if pharmacy users park outside the Carvoeiro Sol hotel while the use the pharmacy. If you see a police officer then explain the situation and they will be happy to help.
Bars and restaurants
Many bars and restaurants are small in Carvoerio but staff are more than willing to help with access with little fuss if asked.
In the summer months there is usually space outside to fit a wheelchair while in the winter the restaurants and bars are quieter so there will be plenty of space inside also.
Disabled toilets
There are disabled toilets at the beach on the left hand side of the beach.
There are a few restuarants in the town that have disabled toilets but sometimes toilets will be large enough to accommodate a wheelchair.
Restaurant Chef António has disabled toilets as does the Black Stove pub (both at the top of the O Farol).
Ask before entering a restaurant and staff will be happy to help.
Portimão Accessible Route
If you would like to discover more of the Algarve then the best place to start may be Portimão thanks to the award winning accessible route around the city.
This is a five kilometre route around Portimão which has been specially adapted to be suitable for wheelchair users and those with reduced mobility and takes users to key spots in the city including the riverside area and the main shopping area of the city.
The path is 1.2 metres wide and includes braille signs for the blind.
Please contact webmaster@carvoeiro.com if you have any new or updated information.
Links:
www.algarvemobility.com  Algarve mobility provide Electric beach wheelchairs for hire, Mobility scooters for Hire and other mobility equipment for hire to assist you while you are on your holidays anywhere in the Algarve and Southern Spain.
www.mobilityabroad.com  Wheelchairs, mobility Scooters, Commodes, Bath Lifts, Walkers, Hoists and More available for Hire for your holiday in the Algarve.
www.comodasolucao.com A company which provides home care support for elderly or disabled visitors as well as offering babysitting services, psysiotherapy services, wheelchairs and specialist home equipment.