Newsletter July 2011
Margarida Sampaio @  
---
I did not move to the Algarve to live in a place where it rained most of the time and was generally cold, wet and windy however, phew it has been hot during June and it looks like this hot weather is set to continue.
The thing is that when it is cold you can always put on another coat, but there is only so much clothing you can remove when it is hot before you attract police attention!
Luckily, everyone is hot and sweaty so there is no shame in your makeup melting off your face or looking like you have just stepped out of the shower most of the time.
I have found that the best way to avoid looking generally bedraggled as a result of the heat, is to go out under the cover of nightfall – some ambient lighting and being in the company of people who are on to at least their second or third glass of wine invariably makes everyone look fantastic.
WELCOME SUMMER PARTY
The Welcome summer party held on June 25 was a great excuse to get out of the house and drink beer on the beach and although there has been a mixed response to this inaugural event, I thought that it went well.
We all know that nothing in Portugal happens over night and the organisers of the event really had their backs against it to get this going, as permission to even hold the party was given at the last possible moment.
Lets be honest, the DJs were hardly international names but the budget for the event was tiny and the organisers have to be applauded for managing to get together anything at all.
The entertainment was paid for by the Junta and the Association with each funding a DJ and the Association working to organise the whole event.
We also have to remember that we are talking about Carvoeiro here and not Ayia Napa or Ibiza and the party had to appeal to as many people as possible so hard core house music was hardly going to be on the agenda – If you are looking for a party like that then perhaps head down to Praia da Rocha or go along the coast to Albufeira or Vilamoura.
It was great to see LSD Bar, Sullys, Hemmingway, the Junta, Carvoeiro Bar and SOS bar setting up their tents and getting into the spirit of the event which saw everyone from small children to elderly Portuguese residents getting into the swing of things.
I also particularly enjoyed watching the logistical struggle with providing electricity – never has one extension lead powered so much – and right next to a puddle of water!
This may have been the first event but I hope that it is repeated again in the future as something a little different for both residents and visitors to be able to enjoy.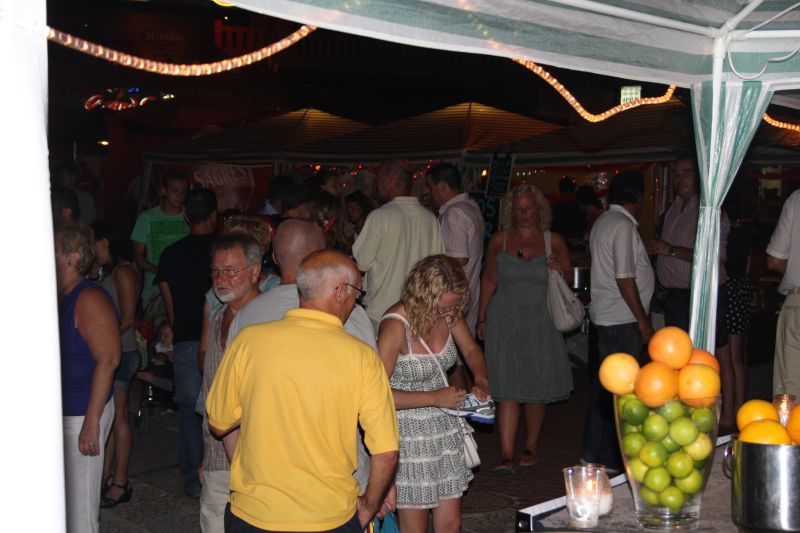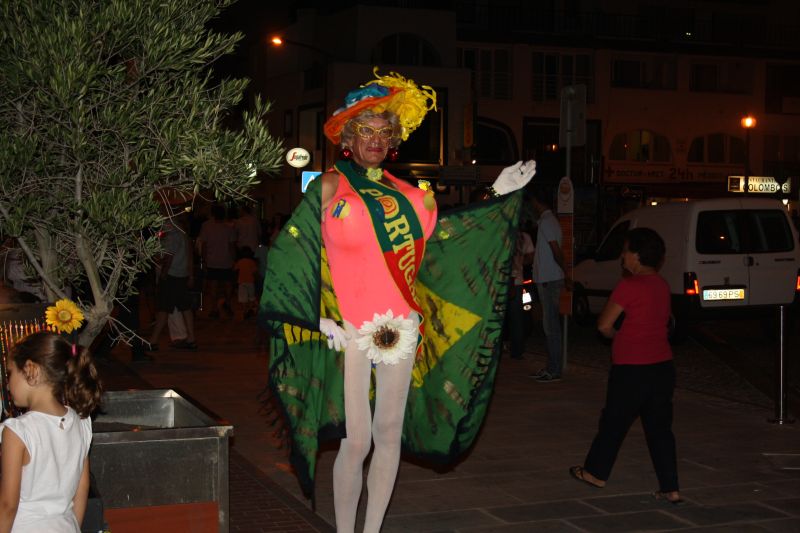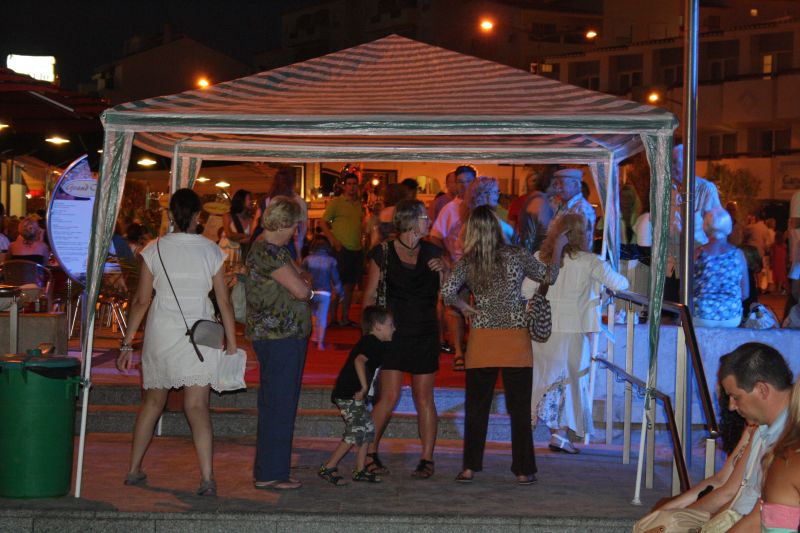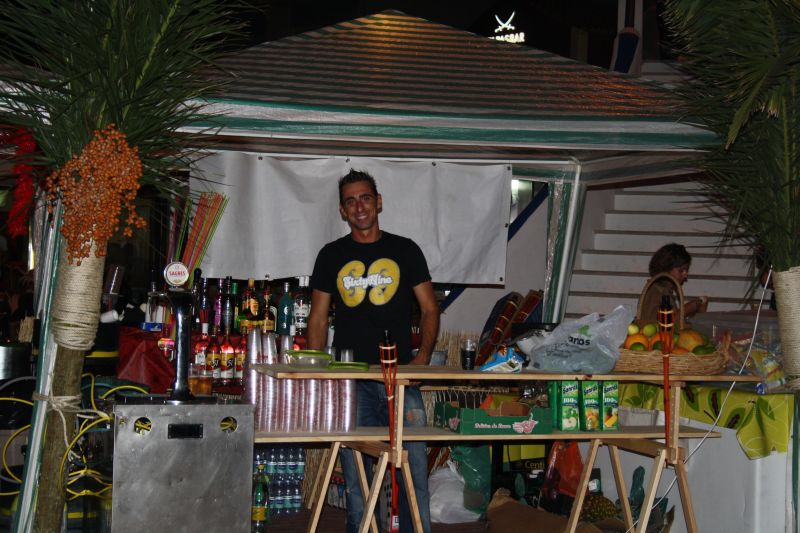 Please find larger versions of photos here
NEW OPENINGS
To coincide with the beach party the long awaited café next to O Patio restaurant finally opened over the weekend of June 25/26.
This lovely new venue means that all the buildings in the square are now in use and I think adds something positive to Carvoeiro as the majority of first time visitors head straight towards the sea and the beach when they arrive so having a shiny new café is a bonus.
The café/restaurant is called JAN Taste of the World and serves up a pretty broad range of things from ice creams and smoothies to cocktails and even a takeaway wok (not entirely sure about this one so if anyone gives it a go please let me know!)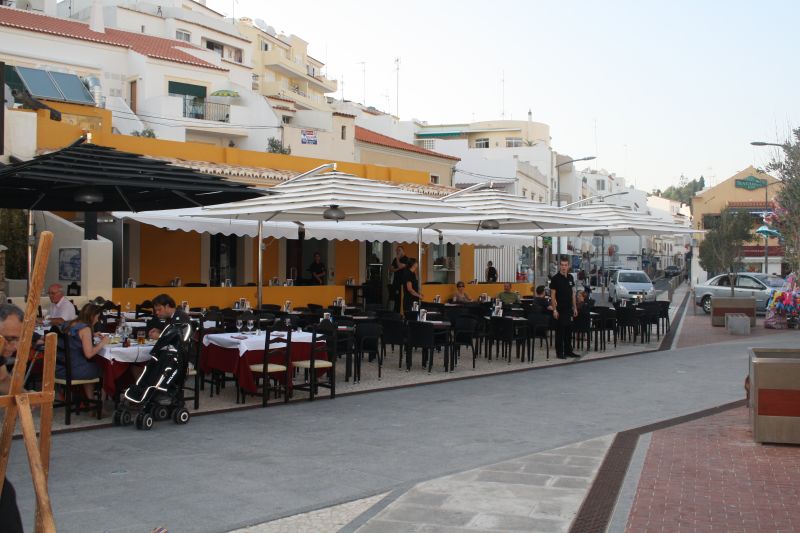 Please find larger versions of photos here
We have also sen the reopening of what was CB wine bar/ the Angel/ Joker bar pool room/the place that used to serve those huge toasties.
This is now known as the Cavern Bar and is being run by Dean of Curtain King fame and can now be put back on the Carvoeiro pub crawl list open from 6pm until late.
BATHING SEASON
The official bathing season has begun and this means that you will now be able to find lifeguards on designated beaches and with report out that has shown that the majority of the eight people who sadly have already died at beaches this year are over 50 years old and of foreign nationality it would be wise for us all to pay attention to beach safety. This also includes sunbathing on beaches like the one in Carvoeiro which has cliffs on either side.
There are signs on the beach warning people not to sunbathe close to the cliffs, even if it is tempting to seek shade here. I am not wanted to scare people but we have to be aware of the real danger of cliffs collapsing and every year there are stories of people who die or are injured because of this so watch out and be careful on the beach.
If you are unlucky and hurt yourself on the beach then a new initiative set up by the Algarve health entity and the Portuguese Red Cross has seen beach first aid points set up across the region to treat minor injuries sustained at the scene.
The only one in the Lagoa municipality is on Ferragudo Beach but there are 32 in total across the Algarve so if you are off to visit another beach this summer then look out for the little beach huts.
FIRE
On June 29 there was a big fire on the scrubland behind Intermarche which ended up with 40 Bombeiros coming from as far as Messines and Portimão to get it all under control. An area of more than five hectares was burnt but the firefighters over several hours managed to get it under control, which also included the use of a helicopter dropping water onto the scene.
A resident in Carvoeiro who lives near where the fire broke out became an unwitting helper in fighting the fire after members of the Bombeiros asked if they could use his pool water to douse the flames leading to the most amazing sight as a helicopter hovered only metres above his pool and topped up the water carrying basket.
I feel somewhere in here there is a message – firstly the firefighters did not know the cause of the fire but did say that it could easily have come from a cigarette butt thrown from a window of a car but was not helped by the unkempt scrubland (heed the warning) and secondly, you never know when a helicopter will come along and steal the water from your pool!
ENTERTAINMENT
Apart from the beach there is also entertainment to be found around the town, especially during the evenings. Last month a reported on the fire eaters and the sand man however the number of street performers and people selling everything from henna tattoos to water colour paintings has increased massively.
The sellers are mainly along Rua do Barranco between the square and Oasis restaurant and they manage to lead people away from the centre and up the road to where the live music is on every Tuesday and Thursday on the small stage (although I am rarely patient enough to wait for them to start as it seems to take a couple of hours for them to set up!).
There is also live music and entertainment in the square in front of Mungos Bar, Clasic Bar, Mirage and Colibri. This starts at 10pm and is a mixture of everything from good cover bands to karaoke.
Also new to this little square is a hair braiding and henna tattoo shop which seemed to open in a matter of moments one day while I was sat having a coffee. I am not sure if this is to be a permanent fixture of if this is just for the summer months though.
Back down to the main square by the beach and there are regular shows all through the summer – have a look at the large billboard with all the events listed on them in the square on the left hand side just before O Barco.
I went down and watched a great Capoeira demonstration. This is the Brazilian martial art that is basically non contact and from what I can tell someone enters the circle to take on another in the sport where they then flip over, do crazy handstands, back flips, one handed jumps and other very impressive looking moves all dressed in martial arts pyjama bottoms (standard I guess) and a t shirt.
It was great to watch and made a pleasant change to the usual entertainment – will I be trying this myself – well I broke my collar bone trying to attempt a handstand when I was eight and have only ever managed to master the forward roll in gymnastics so I think I will leave this one for the younger and more flexible!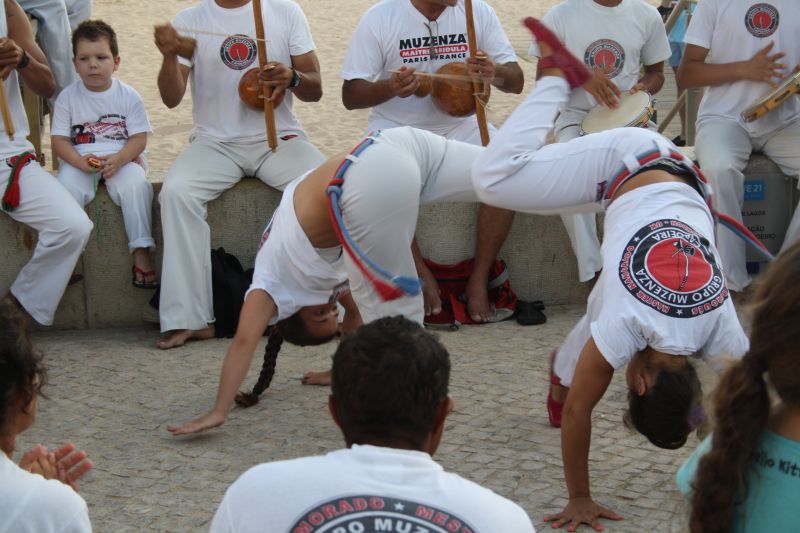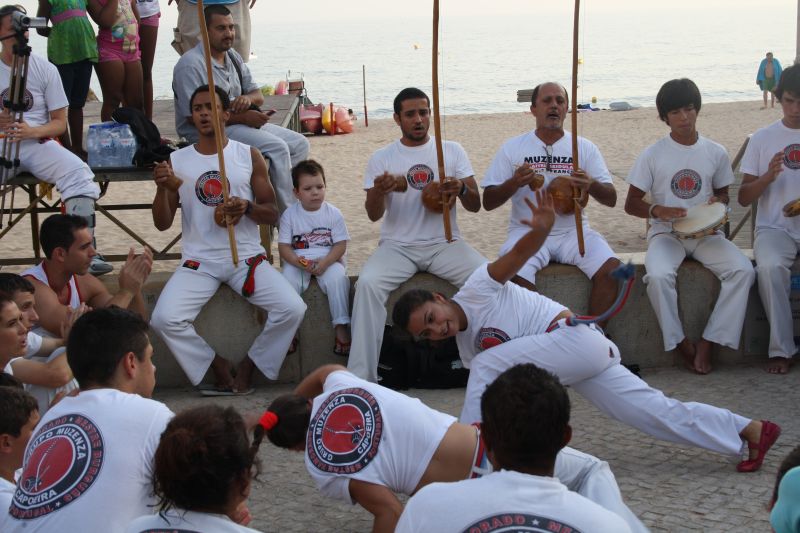 Please find larger versions of photos here
BRING BACK THE 80s
There are plenty reasons this month to hop in the car and travel a little to enjoy some great concerts coming up in the Algarve.
Then we have the acclaimed Queen tribute act God Save the Queen who will be performing at the Fatacil ground in Lagoa on August 5. The lead singer of this band really does look like Mr Mercury himself and the band in the Algarve for this one off show.
Tickets for the show cost €25 per person and are available to buy from www.ticketline.com .
Step back to 1981, I was working as a waitress in a cocktail bar...well I wasn't actually but I know a girl who was...I digress because the Human League, icons of the 1980s and famed for their amazing hair and makeup are in the Algarve in Portimão on August 4 for a concert at a yet to be confirmed venue.
Again this concert costs €25 to watch – to check up on where the concert is going to be nearer the time then have a look at www.allgarve.pt.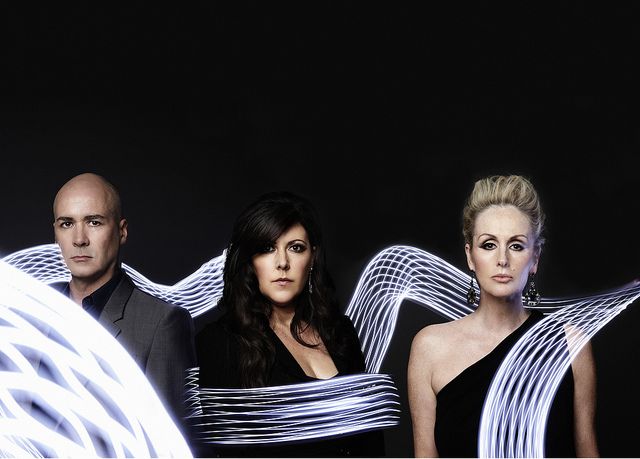 Please find larger versions of photos here
If you are feeling flush then Joe Cocker is playing at the Pine Cliffs Summer Gala in August 7, a very glam event but with a price tag to match with tickets costing €295 for gold tickets and €600 for platinum (I will not repeat what a certain friend said she expected from Joe Cocker for that sort of money).
Finally, and I feel a small drum roll should accompany this one, Duran Duran will be playing at the Salgados golf course near Albufeira on August 16 from 10pm with tickets priced at €25 (www.ticketline.pt).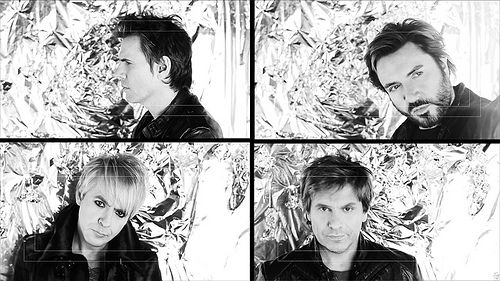 Please find larger versions of photos here
In preparation for this 80s fest across the Algarve I am now off to dig out my leg warmers, crimp my hair and find that ra-ra skirt I had pushed to the back of the wardrobe – admit it, I bet you are too!
Have a great month of July and if you are out and about in Carvoeiro send me an email to let me know what you are up to – or even better, a picture of you enjoying this beautiful town.
Margarida